Agriculture is an evergreen industry with an annual turnover of around 3.8 trillion dollars.
The size of the farming industry extends across international borders. It also interconnects with various domains like supply chain, finance, e-commerce, and banking. Only the collective work of these sectors will make the agriculture processes smooth and efficient. However, the existing IT solutions in the Agri industry have the risk of cyber threats and food safety concerns.
What technology will be apt for rectifying these issues other than blockchain?
Boom Of Blockchain In Agri Business
Blockchain is undeniably one of the most disruptive technologies of all time. It has the potential to enable timely payments, reduce fraud, examine farmlands, and help farmers to decide the prices. Apart from this, the agriculture industry has been suffering from data administration difficulties for a prolonged period.
In traditional methods, agriculture businesses used Information and Communication Technology (ICT) since blockchain wasn't available at that time. Even though it contributed to solving various real-time issues, the problem lies in its operational complexity. Unlike blockchain, ICT involves several tricky procedures that might be complex for many farmers to understand. This has laid the foundation for the sudden boost in the adoption of blockchain technology in the agriculture industry. 
With a 47.8% compound annual growth rate (CAGR), researchers estimate blockchain innovations in agriculture will grow to $430 million by 2023. Let us talk in detail about the "nutritious value" blockchain offers agriculture.
Key Takeaways
Blockchain promotes incentive mechanisms to encourage fair farming practices.
Crop insurance and loans for helping farmers from losses in environmental calamities.
Blockchain eliminates intermediaries and enables direct dealing between farmers and customers.
Farmers can acquire on-time payments and also can fix the price of crops.
Blockchain streamlines the food supply chain to remove food fraud.
Blockchain applications with easy UI/UX for farmers to enable smart farming.
Infusion Of the Incentive System
Have you noticed that most people remove the apple skin before eating?
Why? Because apples in the market are coated with wax for a shine. This is one of the examples that denote poor farming practices.
Some greedy farmers use more chemicals to grow crops with better color, maturation, and taste. Sadly, this will cause ill effects on the consumer's health.
So, what can we achieve through healthy farming methods?
You might be aware of the intriguing role of blockchain in loyalty reward systems. We can employ the same theory here in this case too. Both blockchain and reward systems are highly associated with each other.
"Incentives will encourage the farmers to adopt healthy farming techniques."
When a farmer reduces water intake and waste disposal, they will earn reward points. These data will get recorded in the blockchain with the help of IoT devices. These appliances keep track of the water usage and waste dumping data and update them to the blockchain in real-time.
Crop Insurance And Loans
Insufficient capital will make a cultivator suffer in crop maintenance. Rural farmers might not have enough money to buy seeds, manure, or other agricultural needs. However, they must wait weeks or even months to get a bank loan. On the contrary, blockchain facilitates instant loan approval once the verification and authentication processes are done.
"Automatic insurance policies will help farmers obtain immediate payouts during natural disasters."
Secondly, nobody possesses the power to control natural disasters like drought, floods, rain, etc. Under such calamities, farmers will have a hard time claiming insurance money. Also, there is a risk of fraud during the payout process. In that case, blockchain will be the best way to solve these crises. Blockchain will use satellite data to monitor the cultivation lands and trigger payments when required.
Readers pick : How Could Blockchain Work In Agriculture?
Direct Contact With The Customer
The traditional producer and consumer model have several limitations that are advantageous for intermediaries to earn profits. In short, the farmers will have lower returns than these third parties. Now, this is the perfect place to employ blockchain technology. 'Inter-agents' are the persons who buy the supply from the farmers and sell them at a high price to the consumers. The role of blockchain here is to get rid of these agents using smart contracts. Let us elaborate on how this actually works.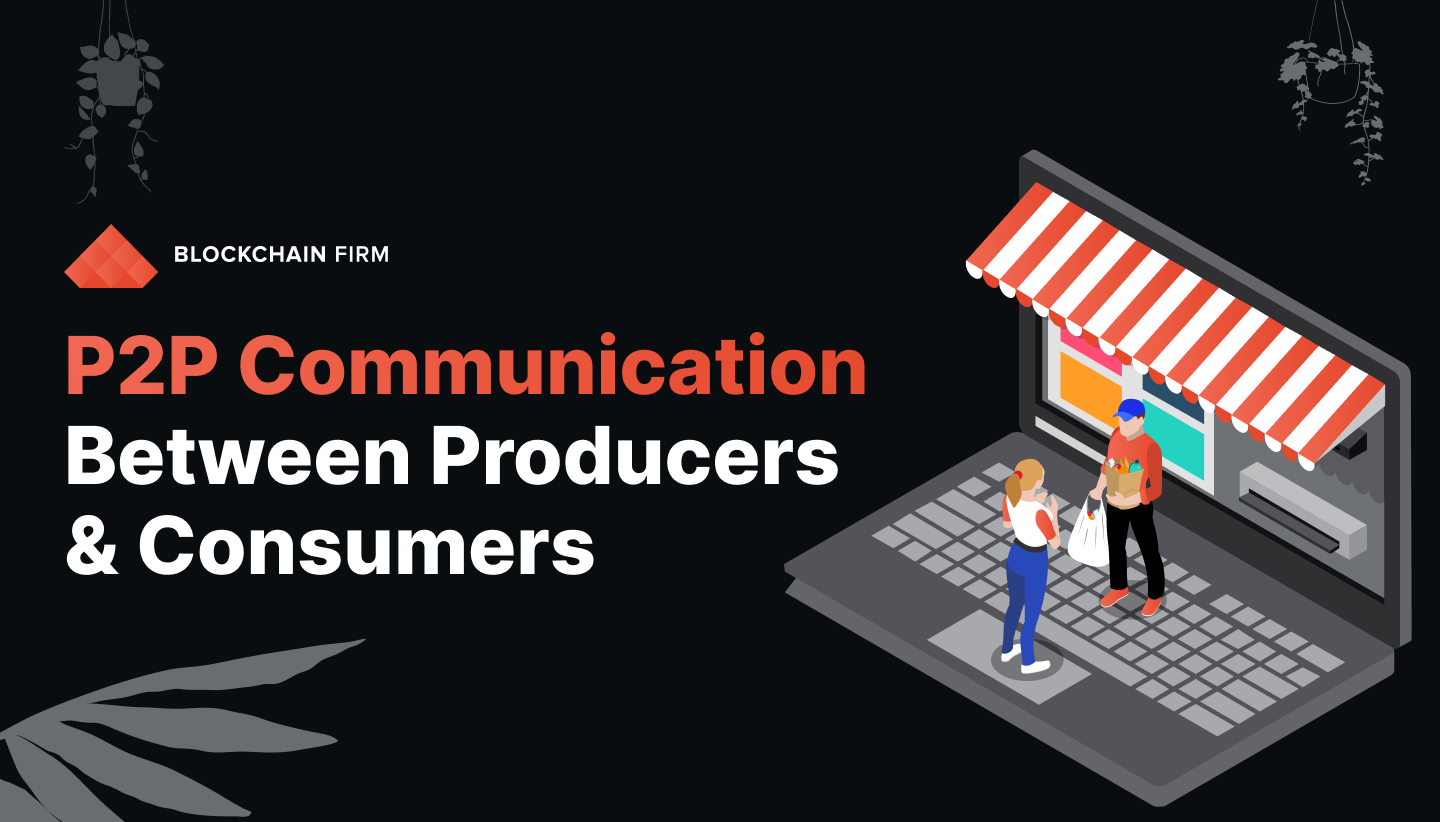 Individuals willing to join the network must confirm their identity with a Proof-of-Work (PoW) consensus. If anyone fails to do so, they will get restricted from entry. Every customer will get a unique ID after verification. Also, the inter-agents who pretend to be the consumers can be found using smart contracts.
"The farmers can communicate and perform money transfers directly to the customer instead of going via a third party."
During the sale process, smart contact will monitor whether the transaction happens between the consumer and farmer nodes. Only the payment from the consumer node to the farmer node is valid, or else it is invalid. Not to mention, the farmers will eventually gain total control over the selling price and will be able to gain more profits.
Dapps For Smart Agriculture
We have seen the growing popularity of decentralized applications in the tech industry.
But will that have anything to do with agriculture? – Yes!
Dapps will be the best tool to help small farmers to organize their cultivation. These applications will ease the workload as they can help with planning, tracking transactions, soil monitoring, watering, fertilization, seeding, deworming, and banking operations.
"Dapps will help farmers to get a compact solution for managing their agricultural activities starting from cultivation to selling."
Most importantly, one does not need to be well-educated to operate these applications. Blockchain applications with an easy user interface will help small farmers to expose their supply to a vast agricultural market irrespective of their educational qualifications. Moreover, Agri dapps will have a dashboard containing various information about climate, logistics, warehouses, producers, and transportation.
Read More : Impact of Blockchain in the upcoming years
Food Traceability And Ecommerce
Customer trust is the topmost priority for every business. Only it can help in improving brand exposure. One of the biggest problems in the agricultural sector is the lack of traceability. In the existing system, consumers will be unable to see the origin of the production. At times, any replacements for damaged food products will take months. But blockchain is different. Blockchain aids in ensuring the efficiency and safety of the food supply chain with traceability.
Also, blockchain serves as a gateway for small-scale farmers to enter the market. In the typical scenario, these farmers have to depend on a distributor as they have a low production volume. As blockchain reduces entry and transaction costs, even small-scale farmers can contribute to the agriculture market.
Eventually, blockchain e-commerce in agriculture will help to reduce forgery activities. Thus, it improves customer trust in farmers and their supplies as well. 
Beginning Of The Better…
Asset digitization is another powerful method to remove third-party risk for agricultural sellers in real-time payments. It also improves liquidity and peer-to-peer trading between farmers and consumers. Yes, that's the excellent work NFT does. These digital tokens carry the value of a physical commodity. On the other hand, digital wallets will solution help farmers to claim or deposit money from a financial institution seamlessly. This digital transformation is surely an innovative approach in which blockchain has the potential to improve all the possible areas of the agriculture industry. 

Connect with us to know more about implementing cutting-edge enterprise blockchain development services.