Moving further with this global digital transformation, we see no scarcity of innovative thoughts. One can spark the flame for a thriving business with proper guidance and tools. At first, business owners didn't actually understand the true potential of blockchain technology. They pre-concluded it as a simple digital database, but it wasn't true at all.
Back to the present – blockchain has never become tired of bringing decentralization and efficiency to multiple business domains. It acts as the primary catalyst for bringing innovation to numerous industries. Blockchain supports startups and entrepreneurs to raise initial capital using crowdfunding campaigns. So, both new and existing enterprises are preparing to adopt this disruptive technology.
"Blockchain can fit right into your business requirements. Now, is there anything else you seek to understand about the flexibility of blockchain?"
For Industrial Blockchain Adoption
For industrial adoption, the first step is to partner with a highly skilled blockchain development agency. Due to the overpopulation of blockchain service providers, you should be more careful when choosing the one you need to collaborate with.
Don't worry! We will help you with some checkboxes you need to tick before finalizing your blockchain service provider.
Dig The Internet
Is there anything we cannot find on the internet? They are the knowledge hub for people worldwide. The presence of web services makes our lives more convenient.
"The best tool to filter the best blockchain service provider for your company will be the INTERNET."
Obviously, when searching for the best blockchain development company, you will search Google. This world's most popular search engine will give you the best results possible. We recommend you dig deeper by using geographical location. For example, search using the keyword "Best blockchain company in Dubai."
Secondly, you need to do thorough background research about your preferred choices. Explore their details like experience, knowledge, track record, expertise in the blockchain field, etc.
Alternatively, if your requirement is a specific service like DApp development and smart contract development, you should search for enterprises that are experts in this service.
Call/Whatsapp : +91 8946015133 | Telegram : @blockchainfirm Email: info@Blockchainfirm.io
Reading Pick : Blockchain Is Even For Non-Profit Organizations
Be Specific About Your Company Goals
Blockchain is a futuristic technology and is inevitable in many domains. So, if you want to incorporate it into your business, you must be more precise about your company's goals.
"A healthy relationship with your service provider will help you obtain the best services."
Once you're ready to explore blockchain, you should be transparent about your business objectives and discuss them with your service provider. If you do not confess your goals openly, it might negatively impact your business and make the blockchain application completely under-utilized or valueless.
Do Not Compromise In Work Experience
Unlike other factors, you should consider the agency's track record. Clarify your queries beforehand and ensure they have worked with enterprises like yours. It will not be the right option to choose an agency that does not have working experience in your domain.
The first obstacle will be time-consuming. For example, assume that your service provider doesn't have vast knowledge about your industry. They have to learn about your domain and then apply their understanding to customize the perfect blockchain solution for you.
So, if you want to save time and reduce risks, it will be a great choice to go for an agency with prior knowledge about your industry. Moreover, you can cross-verify their expertise using the work samples they provide.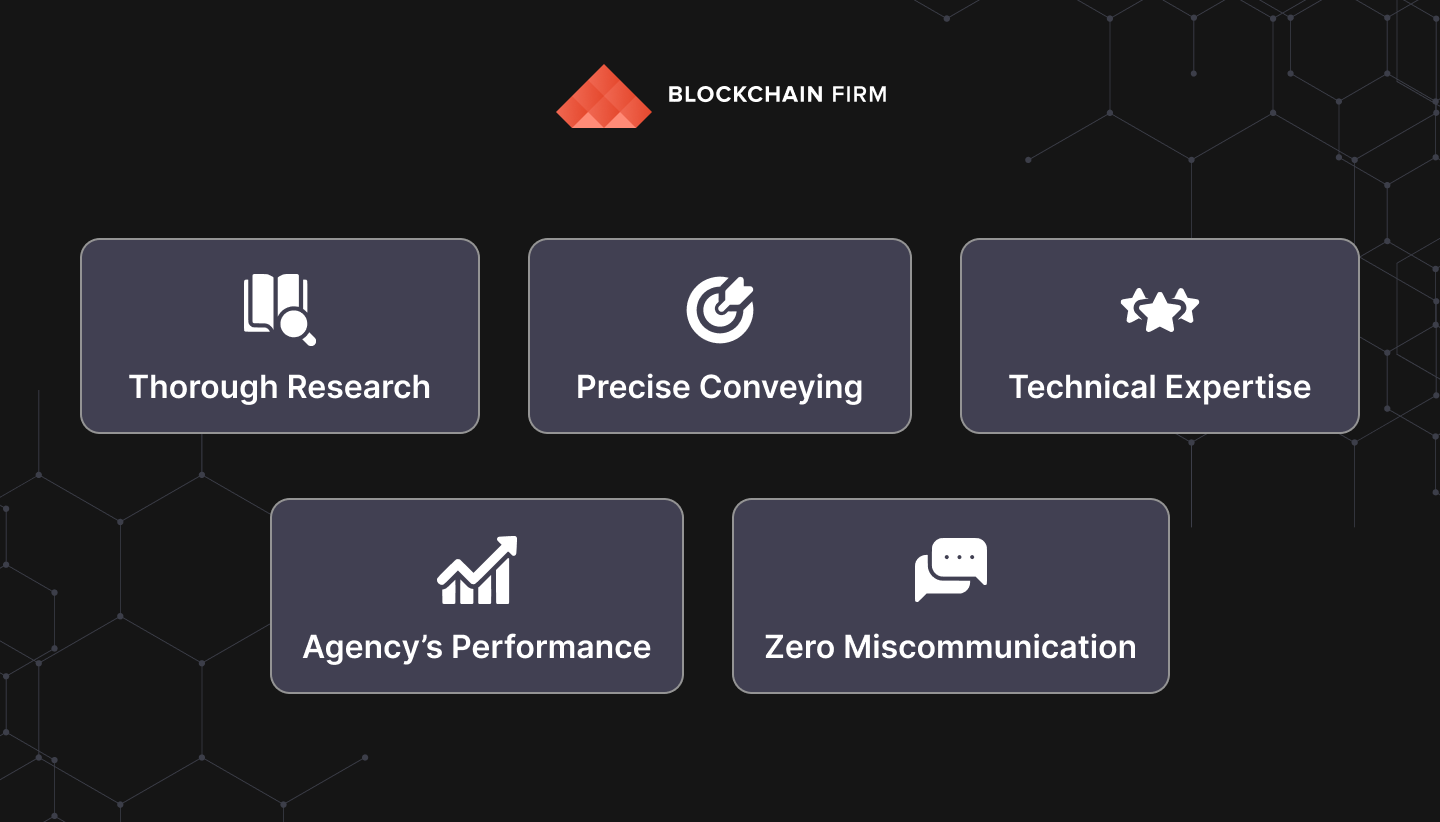 Think Outside The Box
You should have noticed that we highlighted the word "experience and expertise" in many places. Obviously, they are essential to filter out the best service provider out of numerous choices.
"Apart from expertise, creativity in problem-solving is also a big skill!"
More than basic knowledge of blockchain will be required for industrial applications. So, the service provider should be capable of thinking outside the box and coming up with a suitable solution for your industry's problem. Understand their task management skills and how they approach the project.
Assure Proper Communication And Collaboration During The Project Course
Do you know how miscommunication might collapse a good project?
So, you should not allow space for any communication gaps between you and the service provider.
Have you ever been stuck in a situation where people bring you the same conflicting data in multiple ways? Have you ever been pushed to an extent where you must repeatedly explain the same thing? – This is what we say is miscommunication!
Tips To Enable Good Contact:-
➢ Make sure all the stakeholders are working together and towards the same goal. Remember, Unity is Strength.
➢ Talk with only one person who can act as a mediator for all the communication between you and the service provider. So now, you will have only one point of contact.
Let us recall you once again. Miscommunication and improper collaboration will give rise to many disputes and confusion. Ultimately, it will reflect on your project timeline and output.
Resolve Before It Is Too Late
Before partnering with a blockchain development agency to develop a blockchain project, you must test it first. With that, you will find some critical information or even kinks that may occur during the development process.
At the same time, this testing will reveal whether the blockchain development agency fits your business. Note down the potential risks and discuss them with the development team. So, you both can work together to get a positive solution.
A fully functioning and live solution in the final outcome will not be in the same way as in the testing phase. Yet, remember that the project is still in the testing phase. Therefore, you don't need to stress much about its functioning, as it may vary once the project gets completed.
All-In-One Destination For Ideal Blockchain Services
Blockchain is a revolutionary GenZ technology that requires money, time, and study for industry-level adoption. We know blockchain is still an infancy tech for those unfamiliar with its full power.
Selecting the right agency will be your foremost step toward success, and it shouldn't be fragile. Keep the points we cited earlier in this article and join hands with a professional blockchain development agency.
Happily, Blockchain Firm is the ultimate venue where you can get tailored blockchain solutions to boost your business. We are the ones who you need to explore and extract the power of blockchain technology.
You might think that we are bragging about ourselves like any other enterprise. But we don't!
Our Speciality
We have been in this industry for more than five and a half years. Our track record is enough to prove our non-denying existence in the blockchain sector.
Our service includes weighing the pros and cons of introducing blockchain into our client's company. We are a team of industry experts who have already worked on numerous blockchain projects.
Besides blockchain development, we also provide services like
➢ NFT Development,
➢ Cryptocurrency Exchange Development,
➢ Dapp Development, and more.
For more profound information about our services, you can visit our website – https://www.blockchainfirm.io/
Still having queries about enterprise blockchain implementation? Need a word from a professional?
Book a free 30-min blockchain consultation with our experts. Contact now!